Whoopi Returns

Whoopi Goldberg is back again with the comedy classic, "Sister Act," an American comedy written by Paul Rudnick. Sister Act first wowed audiences in 1992 and has been a family favorite for years. If you've never scene Sister Act, you must be living under a rock. For those of you who don't know, Sister Act is about a nightclub singer who goes undercover in a convent as nun to take refuge from her gangster boyfriend she has all the goods on. As a result she helps the zero talented chorus of nuns and establishes lifetime friendships with the sisters.  On and off the camera, Whoopi has gained some life-long friends in her cast mates.
Box Office Busters
Sister Act earner over $230 million at the box office. Sister Act 2, Back in the Habit was released one year later in 1993, Whoopi starred opposite of rhythm and blues singer, Lauryn Hill and actress Jennifer Love Hewitt. In Sister Act 2, the lounge singer Deloris Van Cartier comes back as Sister Mary Clarence to teach music to a group of student misfits at a catholic school is potentially going to close down for good, however Mary Clarence saves the school by organizing a choir of misfits and winning the state choir championship.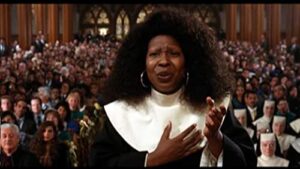 Whoopi the EGOT
The star of Sister Act 1 and 2, Whoopi Goldberg, is most known for her co-host role on The View but is also one of 18 entertainers to win the EGOT, which includes and Emmy Award, a Grammy Award, an Academy Award (Oscar), and a Tony Award. The star is also known for her prominent role in The Color Purple opposite Danny Glover.  Whoopi is loved and respected by many in the entertainment industry for her raw talent and paving the way for other women in the industry.
Sister Act 3
Whoopi Goldberg Revealed on the The Late Late Show with James Corden that she was working on Sister Act 3. Sister Act 3 was rumored to be written and directed by Tyler Perry, but he will join the venture as a co-producer on the project.  IMDb verified that the director is Time Federle, written by Karis Gist, Regina Y. Hicks, and Madhuri Shekar (script). Starring opposite of Whoopi Goldberg are heavy hitters, Keke Palmer, Jennifer, Lewis, and Bette Midler. Midler was originally offered the role of Sister Mary Clarence. Today she admits she missed out on starring in Sister Act because she was not attracted to wearing a nun costume. After the film was a hit, Bette regrets turning down the film.  In December 2020 Disney announced that Sister Act 3 will be released on its streaming service.
Top Secret
The storyline is being kept under wraps and the film will not be released until 2024. Sister Act 3 is sure to be as funny and entertaining as the first two. The Internet sat on fire as rumors of a Sister Act 3 were released to social media. Now it's official! You can find more information on IMDb about the release dates and soon to come synopsis. Whoopi revealed during an appearance on the Jimmy Fallon show, "The Script came yesterday. I really like it, you know, but if has a whole lot of adults to go through. If they don't get in its way, it could be pretty good."
Conclusion
Rumors were flying that no one wanted to see a Sister Act 3 but apparently the people do. Why not? It's funny, the music is great, and it's a film anyone from all walks of life can enjoy. Stay tune for the release date of Sister Act 3, starring Whoopi Goldberg (EGOT), Bette Midler, and Keke Palmer. It's sure to be a good one.